DirecTV Authorized Retailer Northern Michigan
Get DirecTV Today!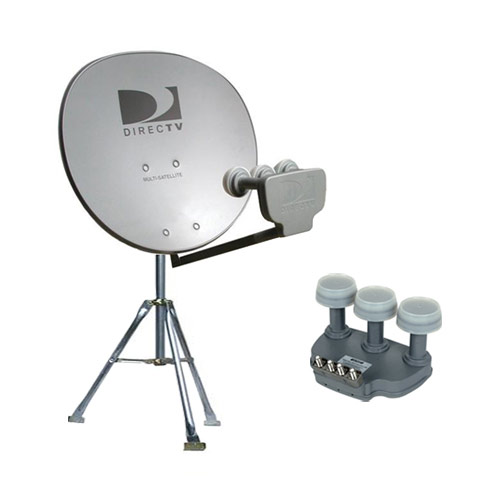 If you want more channels, more control and the freedom to watch the television shows, movies and other programming that you want to see, DirecTV is waiting for you! And, as the premier provider of DirecTV in the Cheboygan, MI area, The Dish Doctor is here to ensure that you have access to professionally installed DirecTV today! Our experienced techs are here to provide you with everything you need to get started enjoying DirecTV, including:
Knowledge: We're extremely well versed in all of DirecTV's various packages, offerings and capabilities, giving you a depth of knowledge to tap at your disposal. Want to know about certain channels? Looking for a unique package to fit your family's needs? Interested in the benefits that an upgrade has to offer you? We have the answers you're
looking for!
Installation: With The Dish Doctor on your side, DirecTV installation is quick, painless and convenient! We'll wire your system anywhere in your home and make sure that everything is outfitted perfectly, giving you the ability to use your new setup right away, without setbacks.
Service: If your service is action up or you're having trouble accessing the programming you want, our techs are experienced and talented in finding a solution. We won't keep you on hold or set lengthy service appointments in front of you—it's our mission to get your problem solved quickly and personally.
Repair: Accidents happen and sometimes your equipment suffers as a result. If you've encountered a situation where repairs are required for you to take full advantage of your DirecTV setup, give us a call and we'll make sure that the appropriate repairs are made.
With DirecTV in your home, you'll gain access to a variety of exceptional entertainment options and some of the sleekest features on the market today, including:
The ability to watch television on all of your devices, from your television to your tablet to your smartphone, all with crystal clear picture and sound.
DRV capabilities that give you the power to pause, rewind and record live television so that you can watch it again when the time is right.
More total channels and various packages that can be customized to meet your television watching habits, whether you're in it for the movies, love prime time television or are all about the sports.
More than 195 full HD channels, bringing you the finest quality picture possible, no matter what you're watching.
Record up to five shows at once and watch television throughout your home uninterrupted with DirecTV's Genie and GenieGO.
All of these benefits and more can be yours when you choose DirecTV packages and installation from The Dish Doctor! It's our goal to provide you with the TV watching experience that best fits you and when it comes to DirecTV, it's easy to find and tailor a plan to give you a level of entertainment that you've never seen before.
For more information about the DirecTV packages we have to offer or for more information about our capabilities, please give us a call today at 231-597-9805.